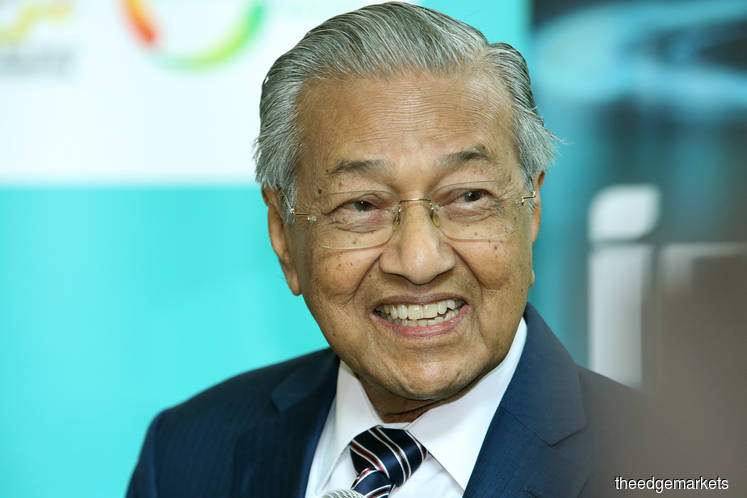 KUALA LUMPUR (Nov 19): Prime Minister Tun Dr Mahathir Mohamad said a ban on palm oil will not solve deforestation, but will instead lead to more opening of land-intensive oilseed crops to keep up with the rising demand.
Dr Mahathir was delivering his keynote address at the International Palm Oil Congress and Exhibition (PIPOC) 2019 organised by the Malaysian Palm Oil Board here today when he defended that producing palm oil is more efficient compared to other oils and seeds, as it requires the least land area but yet produces the highest yield.
"I want to stress that oil palm plantation is not a major cause of deforestation, as it accounts for only 0.4% of the total global agricultural area. In Malaysia, oil palm is mainly planted in designated agricultural land and the opening of new plantation has plateaued in recent years and will remain as such.
"Malaysia's commitment towards sustainability can be traced way back in 1992, at the Rio Earth Summit, where I had then pledged to maintain at least 50% of our landmass under forest cover. Today in 2019, after almost three decades, I am proud to say that we have not reneged on that pledge. The latest figures showed about 55% of Malaysia's 33 million hectares of land area is under forest cover, exceeding Malaysia's initial pledge at the Rio Earth Summit," he said.
Dr Mahathir said Malaysia and other palm oil producing nations are stepping up efforts among global stakeholders to disseminate accurate information about sustainable oil palm plantations and to counter false allegations concerning palm oil with credible facts.
"Despite our best efforts, if certain importing countries choose to impose discriminatory trade barriers against palm oil producing countries, we not must not keep silent nor hesitate to take countermeasures.
"If there is any evidence that such discriminatory trade practices are in violation of any international laws, Malaysia and other producing countries under the Council of Palm Oil Producing Countries (CPOPC) must seek intervention from the World Trade Organisation," he added.
Source : The Edge Markets
You can share this posts: