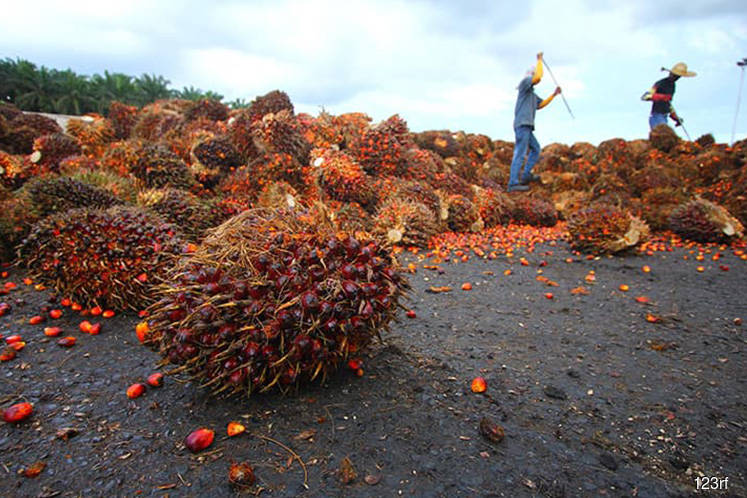 KUALA LUMPUR: Palm oil production is expected to be higher in the second half of the year (2H19), which will lead to higher inventory levels going forward. However, plantation analysts do not foresee heavy pressure on crude palm oil (CPO) prices.
Public Investment Bank Bhd analyst Chong Hoe Leong told The Edge Financial Daily that CPO prices are likely to remain steady at RM2,200 per tonne going forward, should export continues to perform well.
Palm oil exports in August grew 16.37% to 1.73 million tonnes, from 1.49 million tonnes. Oleochemical exports also rose 4.57% to 302,011 tonnes, according to the latest statistics released by the Malaysian Palm Oil Board (MPOB).Advertisement
MPOB's data showed Malaysia's total palm oil inventory fell 5.31% to 2.25 million tonnes in August from 2.38 million tonnes in July, as exports of the commodity grew 16.37%.
Meanwhile, total CPO production in the country grew 4.64% to 1.82 million tonnes from 1.74 million tonnes in July, MPOB said.
The benchmark third-month palm oil futures contract was last done at RM2,224 a tonne yesterday.
Chong was surprised to see the drop on the inventory in August. He explained that the better export figures were due to better demand from China and India.
While Chong expects the demand from China to improve due to the African swine flu issue which had affected soybean demand, he sees demand from India to taper off as it "switches to Indonesia's CPO which is relatively cheaper".
"Assuming that China's demand could continue to sustain, given the higher production in the coming months, it will be cushioned by stronger exports, which is good for CPO prices," he said. But, he cautions if export does not perform well, inventory level would start building up as it reaches the peak production period in October. This in turn will not augur well for CPO prices.
TA Securities Research analyst Angeline Chin is also expecting CPO prices to be traded at around the RM2,100 to RM2,200 per tonne level.
"I think CPO prices in 2H19 will be trading higher than 1H on the back of biodiesel mandate for Malaysia and Indonesia, and also export figures which is likely to be better in 2H," said Chin.
This month's export figures to China also came in higher than Chin's expectation, noting that export to China grew to 380,000 tonnes in August — the second highest figure this year, which more than quadrupled, from 91,000 tonnes in the previous month.
"I think this is a seasonal trend, because there is a festive season in China — the mid-Autumn festival," said Chin.
Demand from India, however, is expected to be lower as it recently raised import tax by 5%, according to Chin, adding that the impact is likely to be seen after two months.
Primary Industries Minister Teresa Kok expects CPO exports to increase this year.
"Last year's CPO production was about 19.5 million tonnes, of which 16.5 billion tonnes were for exports. Production is normally about 20 million tonnes a year, and we expect it to be slightly higher this year," she was quoted by the media as saying yesterday.
Source : The Edge Markets