KUALA LUMPUR (Sept 12): Crude palm oil (CPO) prices are expected to climb by at least US$100 within the next four to six months, according to ISTA Mielke GmbH (Oil World) executive director Thomas Mielke.
The rise in CPO prices, according to him, is driven by a combination of factors, including developments related to Indian crop production, Black Sea exports and weather conditions in South America, which could affect the production of competing vegetable oils, and in turn increase demand for palm oil.
"The threat of El Nino will cause dryness to the oil palms in Southeast Asia. If we get a strong El-Nino effect, we have to revise downward our [palm oil] production estimate and this would create more bullish prices," Mielke said at the UOB Kay Hian-Bursa Malaysia Derivatives joint event.
"[However], there are many uncertainties which complicate price forecasting. Palm oil moved largely sideways of late. At around US$860 per tonne, they are currently undervalued," he added.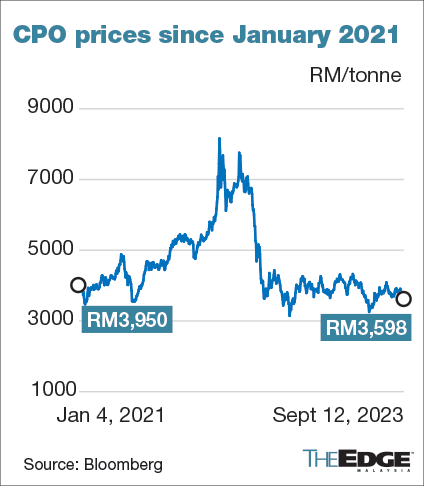 Mielke pointed out that palm oil production has already been below historical trend since 2019 and average yields have declined alarmingly. This is due to challenges such as a lack of replantings in recent years with an estimated 30% of oil palms in Malaysia being 19 years old or older, a slowdown in new plantings that limits production growth, a shortage of skilled labour and management issues.
"Annual average growth in palm oil production is likely to slow to only 1.8 million tonnes or probably less in the 10 years to 2030. This compares with the average annual growth of 2.9 million tonnes in the 10 years to 2020. This is a loss of 1.1 million tonnes.
"Despite the slowing down of growth, palm oil is still dominating the global market of oils or fats, with a production share of 32% and it accounts for even 53% of world exports, although it [is] produced from only 6% of the area," he added.
Source : The Edge Malaysia