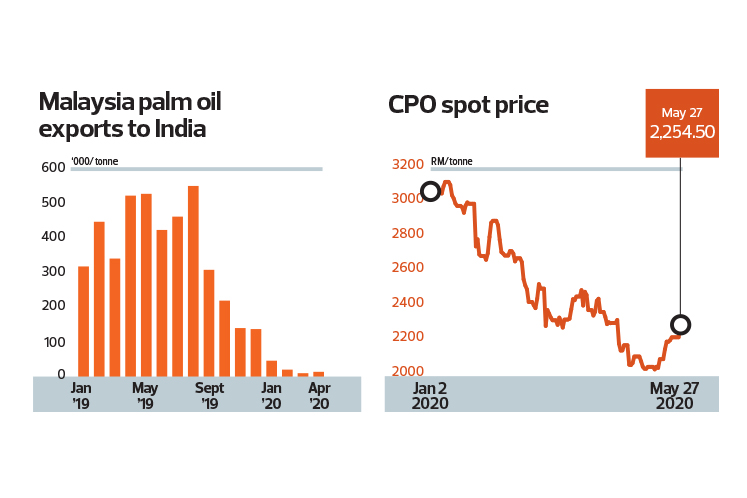 AS palm oil production moves into the seasonally higher months during the second half of the year, the improved diplomatic relations between India and Malaysia has been timely.
In April alone, the palm oil inventory level was higher than the projected consensus of 1.89 million tonnes, rising 18% month on month to 2.04 million tonnes. Analysts say this was due to higher production and lower domestic consumption of the commodity, largely because of the implementation of the Movement Control Order.
India's move to lift its restrictions on refined palm oil, imposed in January, is expected to boost exports to the country.
The restriction on Malaysian palm oil appeared to have happened following Malaysia's criticism of India's actions in the Kashmir region and its citizenship law.
CGS-CIMB Research writes in a May 12 report that exports to India saw a 94% year-on-year decline to only 96,000 tonnes for the first four months of 2020. In recent years, refined palm oil has comprised a significant portion, about 70%, of exports of the commodity.
"The decision to lift the restrictions on refined palm oil is timely, as we are headed into the high production season. Production has been creeping up recently. This lifting of restriction will be good for Malaysia because it will help to curb the excess supply of palm oil and in turn stabilise crude palm oil (CPO) prices," says Public Invest Research analyst Chong Hoe Leong.
The improved relations came after Malaysia agreed to import a record 100,000 tonnes of rice from India for June and July, or twice the average annual volume.
Shortly after that, news wires reported that Indian importers had contracted for up to 200,000 tonnes of CPO from Malaysia to be shipped in June and July, as domestic inventories in India were at low levels. Malaysian Palm Oil Board (MPOB) chairman Datuk Ahmad Jazlan Yaakub confirmed the end to the restrictions and thanked the Indian government in a statement last Wednesday.
In a May 19 report, CGS-CIMB Research notes that 200,000 tonnes of crude palm oil (CPO) over a two-month period is considerably more than the total volume exported to India in the first four months of the year. Nevertheless, it is still below the average monthly export volume to India of 367,000 tonnes per month in 2019.
"Any increase in buying interest now will be good for CPO prices in general," says Public Invest Research's Chong.
CPO prices have been sliding since the beginning of the year, with spot prices falling about 30% from RM3,053 per tonne to RM2,183 per tonne on May 18 when the media reported that India had lifted restrictions on Malaysian refined palm oil.
As at May 27, CPO spot prices were hovering at RM2,254.50 per tonne. This has been attributed to the plunge in crude oil prices as well as the global lockdowns because of the Covid-19 pandemic. With economies starting to open up gradually, coupled with India's lifting of restrictions, however, CPO's prospects are looking brighter.
"We believe the current low CPO prices are temporary as the global relaxation of movement control orders is expected to lift palm oil demand going forward," states AllianceDBS Research in a May 13 report.
Maybank Investment Bank Research says preliminary Malaysian export estimates for shipments in the first 10 days of May by independent cargo surveyors Amspec and Intertek saw 12% and 8% m-o-m increases respectively.
"This is a positive indicator given the recent increase in April's stockpile. We think this trend is sustainable given the present low CPO prices and as more importing countries reopen their borders and economies after the recent Covid-19 lockdown, and the need to restock. By our preliminary estimates, May's stockpile is likely to inch higher to 2.2 million tonnes," it says in its report dated May 13.
CGS-CIMB Research believes Malaysian palm oil now has a competitive advantage over Indonesia, the world's largest palm oil producer, as the export duty rate for CPO was reduced to zero percent in June from 4.5% in May. Currently, Indonesia's CPO attracts an export levy of up to US$55 per tonne.
"This is positive as it could help improve Malaysia's CPO exports to India and keep palm oil stocks in check in Malaysia during the peak production period in 2H2020," says the research house.
Where import duty is concerned, since the Indian government revised the rates in January, they have remained at 45% for refined palm oil and 37.5% for CPO. The rate is the same for Indonesia.
In the next few months, MPOB expects CPO prices to reach RM2,300 to RM2,400 per tonne.
This article first appeared in The Edge Malaysia Weekly, on June 1, 2020 – June 07, 2020.
Source : The Edge Markets
You can share this posts: